Def Leppard 24 juni 1987
Geplaatst: 4 november 2012 door Noorderligt NU
When Def Leppard hit the stage at 10pm there's maybe a couple of hundred people there to see them. But Def Leppard have always been an exciting and colourful band to watch on stage; handsome and lean and moving around like tigers on vaseline, the four-man frontline all hang from the lip of the stage and compete for the spotlight. Despite receiving no more than polite applause, the band still make a dazzling entry, Joe Elliott screaming into the mike "WELCOME TO OUR SHOOOOOWWWWWW!", the band flying straight into the manic intro to 'Stagefright'...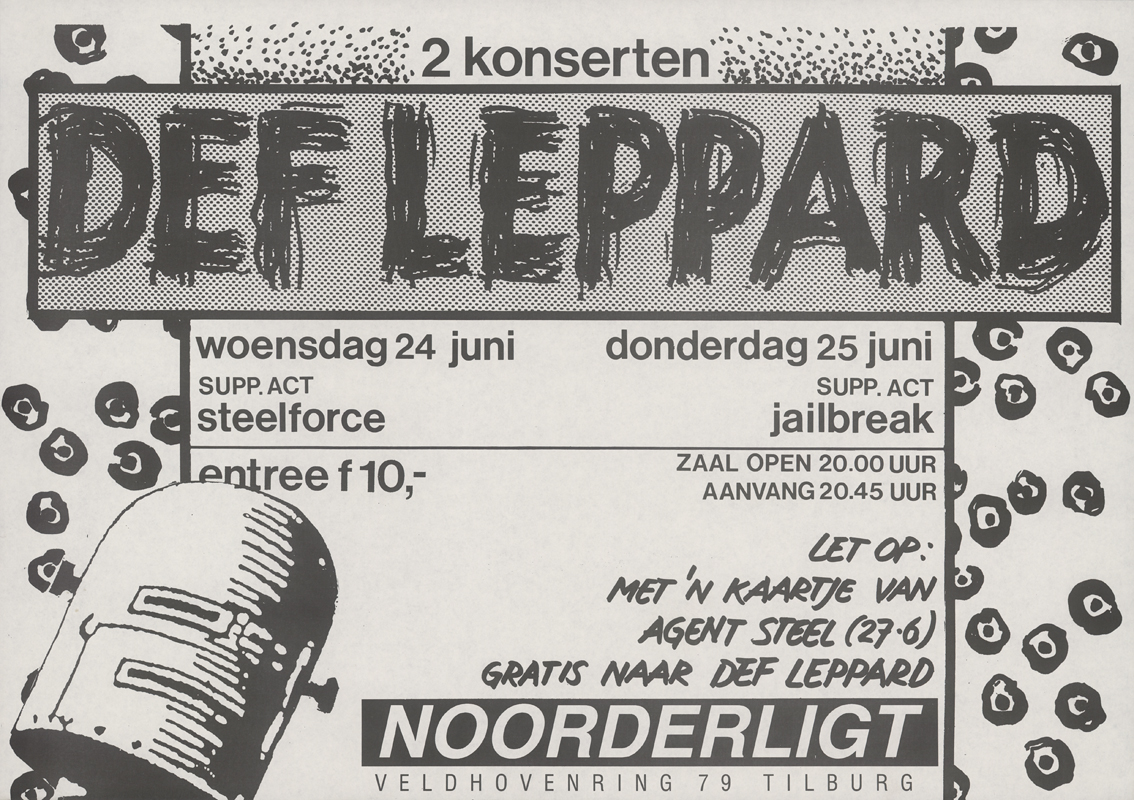 At the back, face concentrated, hunkered down behind his beautiful new Simmons electronic drumkit, is the man of the moment, Rick Allen, blowing up the kind of storm most drummers with two arms could only dream about. Since the widely-reported car accident in which Rick lost his left arm two-and-a-half years ago, the question nobody liked to ask but everybody was waiting for the answer was: would Rick still really be able to cut it on his own with the band onstage? He did it and did it well at last year's Castle Donnigton festival: but could he be relied on to keep it up night after night through another grueling world tour? The answer is quite simply, yes.
'Animal', 'Armageddon It', 'Pour Some Sugar On Me', 'Don't Give Me Love & Affection' and 'Hysteria' all get premiered before the lackadasical Nooderligt crowd. The ones at the back in the Slayer T-shirts are waiting to be impressed, but down the front is where they are mostly, nodding their heads thoughtfully, smatterings of split applause greeting the end of each number. Even more familiar Leppard material like 'Rock Rock' and 'Too Late For Love' draws only politely appreciative applause.
"It's fair enough, really," said guitarist Phil Collen after the show, "our music simply isn't that well known enough in Holland for us to expect anything else. I mean, you've got to start somewhere, haven't you?".
But when Joe Elliott calls Rick Allen down from behind his kit and says through the mike, "I'd like to introduce you to my mate Rick!" the crowd finally throw their heads back and cheer. It was the biggest noise they made all night, applauding the talents of this gifted young percussionist whose courage has brought him right back from the brink of of tragedy to where he belongs, propping up the beat behind the guitars in Def Leppard. It was a touching moment, and for making it so I can forgive the crowd their reserved reaction to the rest of the set.
Anyway, things didn't really start cooking until the following night...
By Mick Wall @ Kerrang! 1987.
---
Bron: http://deflepparduk.com/1987tilburgmedia.html / http://deflepparduk.com/1987tilburg.html
Geplaatst: 4 november 2012 door Noorderligt NU
Reageer via Facebook
Ook bijdragen aan het archief? Neem contact op met de redactie!