Def Leppard 25 juni 1987
Geplaatst: 4 oktober 2012 door Noorderligt NU
On the 28th of June, Europe had its biggest festival in The Hague, called Parkpop Festival. This admission-free festival, in which bands of all kinds of music play on two stages, again attracted more than 200,000 visitors this year. Every year, as this year, there is a big hard rock act present to represent the English. This year it was Def Leppard, if you can speak of Def Leppard as being a British or English band with three of the band members living in Holland, and the biggest part of their success the band has gathered in America.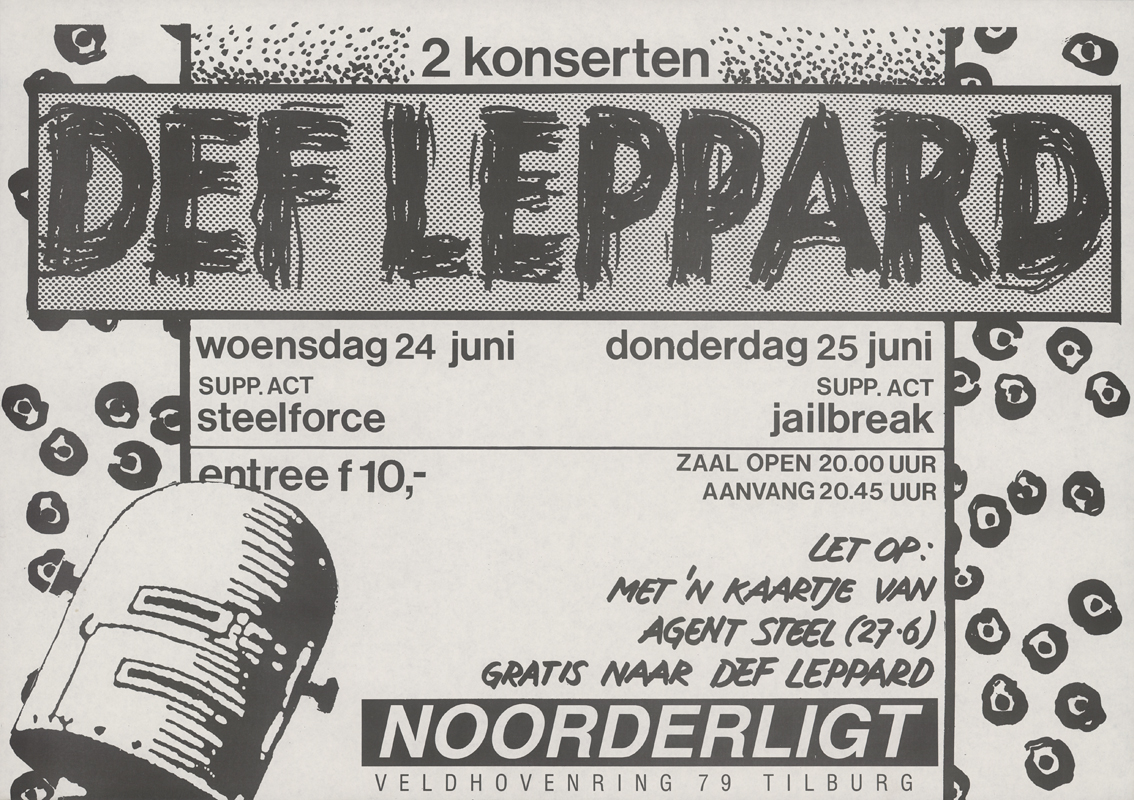 Hesitant of being thrown in front of 200,000 people at once after being in the studio for four years, Def Leppard decided to do a couple of try-outs in a medium-sized venue in Tilburg, 30 kilometers northeast of Eindhoven. Reporter Scoots Moran was at the second try-out and was able to hear a lot of the tracks off of the upcoming album, 'Hysteria'. But the band hasn't gained the same status in Holland as it has in America, which was obvious because at both gigs there were not more than 1000 people present. With a ticket price of $4, people who could prove that they bought a ticket of the upcoming show of Agent Steele in the same venue could even get in free. Fans of Agent Steele obviously aren't the same people that listen to Def Leppard, of course.
After a good support slot by the Dutch band Jail Break, it was time for Def Leppard to enter the stage. Def Leppard opened with "Stagefright", followed by the next Pyromania song, "Rock! Rock! (Til You Drop)". We heard "Women", the first new Hysteria track, a really heavy rock song with some powerful vocals by Joe Elliott. It seemed that the band were eager to go out and play.
The last four years spent in the studio (except for a few months of rock gigs last year) must have felt as a lifetime imprisonment for the band. Only the two guitar players, Phil Collen and Steve Clark, in those four years went on stage once in a while with a band which was touring through the Netherlands. Like you could see both guitar players playing four songs with Tesla when they toured through Holland. And Phil was also on stage during some encores with Bon Jovi earlier this year.
Two more Pyromania tracks, "Billy's Got a Gun" and "Too Late for Love", were interrupted by four new album tracks - "Armageddon It", the title track, "Hysteria", the US single off of the album, "Animal", and the sweet song of "Pour Some Sugar on Me". The tracks are a bit more radio-oriented than the former stuff, but it's still really good shit. With Hysteria, they haven't tried to make a copy of the Pyromania album, but they've further developed their own style and are sounding much more mature than their former material. It's pretty obvious that Hysteria sales-wise has a chance to come in the same region as Pyromania.
Leppard fans who were a bit skeptical about the drumming of one-armed Rick Allen can go back to sleep quietly. He's a 100% full member of the band. His specially designed drum kit, on which Rick controls his snare and tom sound through pedals he's kicking with his left foot, enables him to make every Leppard song sound as it used to do.
"Let It Go" finished the set of the band to a very enthusiastic audience. So to satisfy the audience, the band had to come back several times for encores. One encore was "Rock of Ages", the song which the band had molded into a medley of old rock classics which included parts, for example, from Golden Earring's "Radar Love", Led Zeppelin's "Whole Lotta Love", and the Who's "My Generation". After "Photograph" and the heavy classic song "Wasted" off their first album 'On Through the Night', the band finished their first round of encores with another new track called "Tear It Down".
But that wasn't all, because the audience really wanted to have more! So the band entered the stage another time to start out with the famous Alice Cooper song "Elected". In this very good version of "Elected", bass player Rick Savage and guitarist Phil Collen changed instruments. They started to play another old classic, the Creedence Clearwater Revival's "Travelin' Band". After this song we heard some parts of other old classic songs, including parts of the Led Zeppelin song "Rock and Roll". Part way through the song, Phil and Rick changed instruments again and we were surprised by a guitar duel between Steve "Steamin'" Clark and Phil Collen.
After 90 minutes the show was finally ended and proved that Def Leppard are ready to go out in to the world and kick ass! The entire gig was recorded live to be possibly used later on vinyl. It's a pity that their first planned tryout gigs were not at the famous Dynamo Club in Eindhoven, because the Dynamo stage was too small and because your editor already had an eventual title for a live album on the shelves - Dynamonia.
By Scoots Moran @ Aardshok America 1987.
---
Bron: http://deflepparduk.com/1987tilburgmedia2.html / http://deflepparduk.com/1987tilburg2.html
Geplaatst: 4 oktober 2012 door Noorderligt NU
Reageer via Facebook
Ook bijdragen aan het archief? Neem contact op met de redactie!